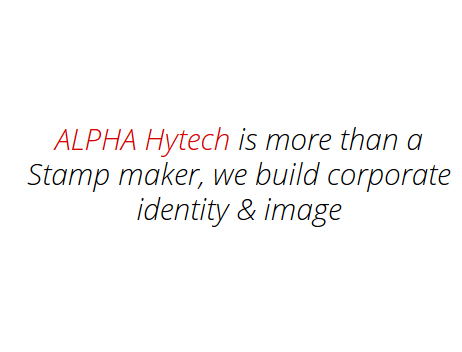 ALPHA HyTech Pte Ltd was established in 2008 and specializes in personalized high quality office essentials pre-inked stamps and common seals. We also supplies various types of rubber stamps and self-inking stamps.
ALPHA HyTech strives to offer its customers with top-of-the-line office stamps for their every day office transactions and documentations. We believe that properly documented and labeled papers can help our customers improve in their filing system. We continue to widen our product lines to help the growing office essential needs of our customers
All our Pre-Inked stamps are using Waterproof Ink and re-ink-able when ink runs out. Ink available in 5 Colours – Black, Blue, Red, Purple and Green.
ALPHA HyTech Pte Ltd is under the umbrella of ALPHA Business Consultancy Pte Ltd and Leethen & Associates who provides personal financial consultation services to its clients in the whole of Singapore. The company is being operated by a dynamic and friendly team of Chartered Accountant of Singapore satisfying its clients from small to medium sized business communities through their expertise, commitment and quality services in cost effective manner.